Synthetic sponges and scouring pads, abrasive fibers
Item no : 1258

Designation :
Synthetic sponge SANI
Size :
1
Packing : 36 pieces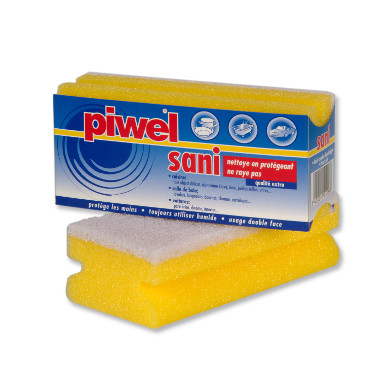 USAGE
SANI - synthetic foam sponge with grip
and white non scouring surface
4,5 x 6,8 x 15 cm
double sided use
does not scratch
high quality - long-lasting
---
Especially suitable for delicate surfaces
Cleans effectively without scratching
Kitchen:
any delicate surface, anodized aluminium, stainless steel, Teflon pan, glass pane, ...
Bathroom:
wash basin, bathtub, shower bath, chrome, tiles, ...
Vehicle:
front shield, chrome, insects, ...
Advice for use:
Use well moistened, in combination with dishwasing detergent.