Stainless steel wool - PIWEL packaging
Item no : 22408

Designation :
8 stainless steel wool pads (without soap)
Size :
1
Packing : 12 packs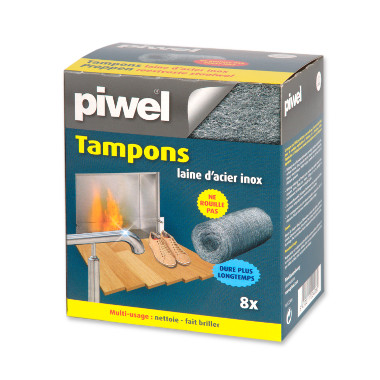 USAGE
NEW
Box with 8 stainless steel wool pads without soap
for cleaning and polishing
rust-proof, lasts longer
---
PIWEL stainless steel wool pads are resistant and do not rust. They are the ideal choice for many applications inside and outside. Depending on the application, they can be used dry or in combination with a cleanser or detergent.
Cleaning of strong and rigid surfaces (always use wet in combination with the appropriate cleanser or detergent):
tiles, polished marble and granite
surfaces in enamel and glass
window panes
glass windows of wood burning stoves, glass-ceramic cooktop panels
Cleaning and polishing of stainless steel and other hard metals (use dry or wet in combination with a detergent or polish):
guard railings, handrails
letterboxes, sinks …
Fine work on wood:
wax / polish removal
surface preparation before repolishing, waxing or painting
used for matting between coats of varnish or paint
Cleaning and care of suede leather (use dry and always test on an inconspicuous area):
Advice for use:
Add some diluted vinegar for removing marks of limescale, spots of cement and hard plaster on tiles, window panes and stainless steel. For applications on wood, always work in direction of wood grain. Using on suede leather, rub smoothly over the dirty surface.
Important:
Do not use on anti-stick coatings or any delicate surface (such as coated or varnished surfaces, silver plates). Always test product first on an inconspicuous area or spare surface. Keep out of reach of children.